For Charity! Review for Melanie Moreland's The Baby Clause
*~*~* A CHAPTER FOR CHARITY *~*~*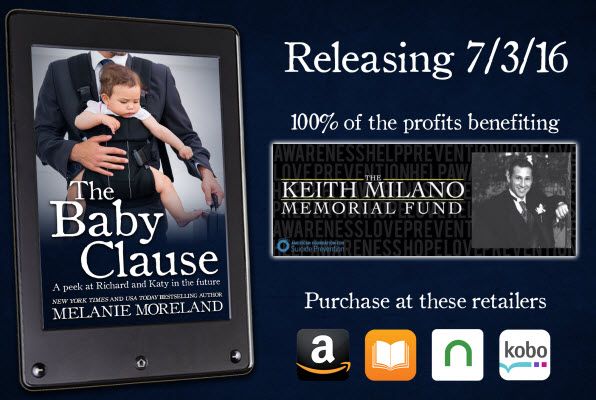 YOU ASKED. HERE IT IS:
A CONTINUATION OF KATY AND RICHARD'S STORY
So many readers wanted to know what was next for Katy and Richard. Melanie Moreland wrote this small continuation of their story for her newsletter, with the intention of eBook sites to offer free download. After hitting some Amazon roadblocks and head scratching as to how to let more people see it, an idea formed.
She didn't write this to make money, but to say thank you. So the best idea—pay it forward.
Melanie has partnered with the Keith Milano Memorial Fund, and all profits will go to this amazing charity which benefits Mental Health awareness, and suicide prevention. The add-on is releasing 7/3/16 and is available for pre-purchase. This story available for a limited time for 99 cents.
If you have read The Contract, and want a little more —get your copy now and support a great cause!
Purchase Kobo:
goo.gl/JSC43D
Kim's Review
Melanie Moreland's "The Baby Clause" is an amazing read! Richard and Katy are back in this quick and awesome read. It shows what happens when Richard finds out that Katy is in labor and the after effects. It's a cute and fast read, and will make you go awwww and smile with happiness. This is a MUST READ to go with "The Contract."
5 out of 5 stars
Fund Information:
The Keith Milano Memorial Fund was established to help raise awareness about the devastating and deadly disease that is mental illness. Keith's spirit and laughter is kept alive through our efforts to increase awareness about mental illness and to raise money for education and imperative research. Keith often struggled with society's perception of mental illness. Our hope is that by having the strength to say that Keith was "Bipolar" we can strip away the stigma and help others to be more open about their disease.
Keith's fund is a self-directed memorial fund. Funds raised are spent on programs and research programs selected by the Milano / Sprung family
Keith Milano Memorial Fund
140 Adams Ave Suite B-12
Hauppauge NY 11788
@MilanoFund
The Keith Milano Memorial Fund benefits the American Foundation for Suicide Prevention (AFSP) http://www.afsp.org/
AFSP is the only national not-for-profit organization exclusively dedicated to understanding and preventing suicide through research and education, and to reaching out to people with mood disorders and those affected by suicide.
AFSP is a fully accredited 501(c)(3) tax-exempt organization incorporated in the state of Delaware with primary offices in New York City. Federal tax ID # is 13-3393329.
AFSP's Combined Federal Campaign (CFC) number is 10545. Donations to AFSP are tax deductible.
Just in case you missed it, here's Kim's review for "The Contract":
Melanie Moreland's "The Contract" is a great read. Richard VanRyan is an executive at an advertising agency in Victoria, Canada. He's up for partner and doesn't get it. His mood turns and he gets into what others have nicknamed him the Dick. He wants to work for his boss' competitor but they are a family owned and run business and he has a horrible reputation of being a dick and a manwhore. He tries to come up with a way to get what he wants and comes up with something wild and crazy and he's not sure he can pull it off. Katharine Elliot is Mr. VanRyan's assistant who's working her butt off and puts up with all his crap so she can pay for her Aunt's care. She doesn't care how nasty her boss is or what outrageous thing he asks her to do, she's gonna do it to keep earning that money. Katy gets a call from the home telling her they're raising their rates, then all hell breaks loose with her boss getting the jam from her PBJ on his suit jacket. Poor Katy doesn't know how much more she can take. She already lives in the cheapest place possible and lives off of Ramen and PBJ sandwiches. Can what Richard is thinking help them both? Find out this and more in this awesome read!!!